Internationale 5 ritmes workshop te Brugge met Marc Silvestre uit Parijs: 29 & 30 April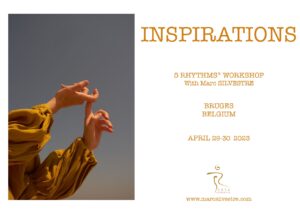 Tijdens deze 2 dagen nemen we de tijd om te ademen en te luisteren naar het lichaam in beweging. We zullen aandacht hebben voor het geritsel van de dans die de huid raakt en ons meeneemt in onze choreografie.
De vloer van de zaal zal onze onfeilbare steun zijn voor deze danspraktijk. De inspiratie van het lichaam, de inspiratie van onze creativiteit zal onze rode draad zijn, als een bron voor ons dagelijks leven.
Deze cursus is voor iedereen die regelmatig danst of die al een 5 ritmes danstraining heeft afgerond. De workshop met Marc telt ook mee als voorwaarde van de 5 Rhythms dansdocentenopleiding®.
Marc Silvestre is a certified 5 Rhythms teacher level wave and Heartbeat® and an official Coach from ICF ( International coach federation)
Dance: Marc has started to dance in 1995 after many years of Martial arts. He has participated to lot of performances and contemporary dances. In 2002 he discovered 5 Rhythms dance.He followed the training in USA with Gabrielle Roth and her team. Since 2011 he leads classes and workshops in France, Suisse, Belgium, Lithuania, etc…
Contact:
Katrien: registration@5ritmesbrugge.be
Open Wave Friday: 19u – 21u30
Workshop Saturday/Sunday: 11u – 17u30
Cost: Open Wave: 25€
Workshop: Early bird 160€ (booking before March 12th – Full Price: 180€
This workshop with Marc also counts towards the prerequisites of the 5 Rhythms® dance teacher training.
Klik op Flyer: